Päätin jokunen viikko sitten neuloa kälylleni lahjaksi pipon, kun Sirdarin Balmoral-lanka hurmasi minut täysin lankakaupassa. Otin viikonloppuna ja alkuviikosta kunnon spurtin, johon kuului yksi todella vähäuninen yö, ja kun aatonaattona lähdin veljeni perheen mukana mökille joulun viettoon, olin päässyt myssyssä (http://knotions.com/issues/winter_2008/patterns/texturize/directions.aspx) kavennuksiin asti. Ongelma syntyi kuitenkin siitä, että senkin jälkeen kotsaan kului huomattava määrä aikaa. Lopetin pipon väkertämisen noin klo.02.30 aattoa edeltävänä yönä, kun uni voitti.
Aattona en sitten enää ehtinytkään tonttuilemaan, joten jouduin esittämään lahjan saajalle pahoitteluni, ja lupauksen, että pipo vaihtaa omistajaa heti valmistuttuaan.
To make a long story short, I decided to knit my sister-in-law a beanie (Cassie Miller's Texturize, to be exact) for Christmas out of Sirdar's Balmoral a few weeks ago. In the end, despite a heroic last minute push (which included two nearly sleepless nights), I ran out of time, and had to give her my humblest appologies, and a promise I'd give her her gift as soon as I cast off.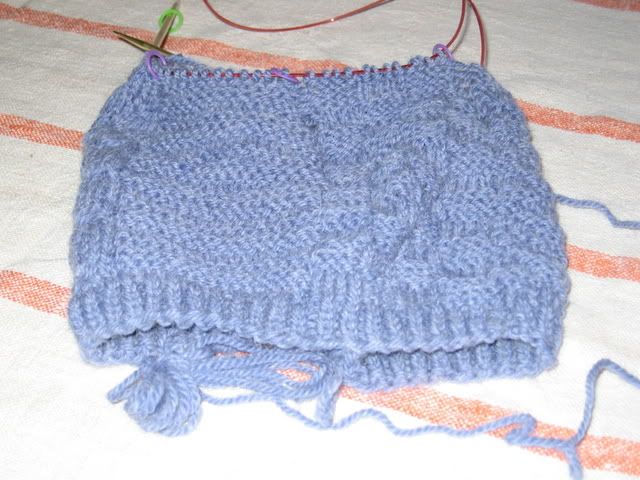 Aattoiltana avasimme sitten lahjat perinteiseen tapaan. Olin vihjaillut Rakkaalleni haluavani värttinän, ja antanut suhteellisen tarkat speksit unelmavärttinän suhteen. Lontoosta lähetetystä paketista paljastuikin suloinen yläpainotteinen kaunotar. Rakkaani oli myös ostanut kaksi kerää Wensleydale'iläistä lankaa
http://
homepage.ntlworld.com/stephen.bolam/sheepshop/aboutus.htm
joka oli erittäin mieluisaa, sillä olisin halunnut käydä siellä viimeisimmän Englannin-visiitin aikana.
Come Christmas Eve evening, we opened our presents, according to tradition. I'd given my Beloved several unsubtle hints about wanting a spindle, and had even given him fairly detailed specifications about my dream spindle. When I opened the parcel I'd been sent from London, I found a top-whorled beauty made from ash, beech and yew. Beloved has also bought me two skeins of yarn from Wensleydale, which I loved, as I had wanted to visit them during my latest trip to England.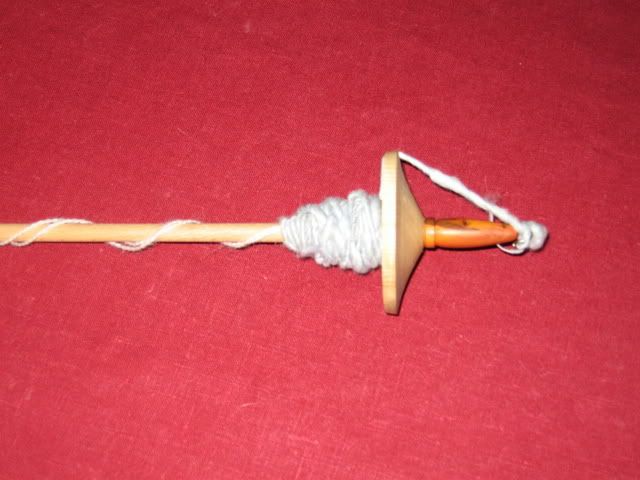 Kokeilin uutta värttinääni tänään, ja Nauravalta Lampaalta ostettu karstalevy pääsi tapaninpäivän kunniaksi testattavaksi.
I finally tried my new spindle today, and the bat from Naurava Lammas was taken out for a testdrive in honour of Boxing Day.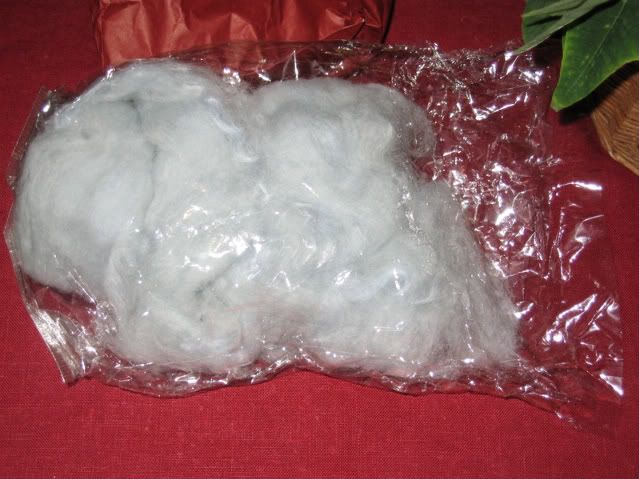 Isovanhempani olivat käymässä, ja molemmat ihailivat suureen ääneen kuinka taitava olinkaan, kun kehräsin oikein käsin värttinällä. Taisinkin keksiä miten saadaan mahdollisimman paljon ihailua mahdollisimman vähällä vaivalla: pitää ilmeisesti vaan räpeltää vanhojen sukulaisten nähden ;) Pappani ja isäni rupesivatkin heti puhumaan kuinka tarvitsisin ehdottomasti rukin... Pitää toivoa, että siitä tulee joskus jotain, ihan konkreettisestikkin. Kehräämäni lanka on edelleen huomattavan möykkyistä, joten talvipipooni taitaa tulla useampi rivi koristelankoja :p
My grandparents were visiting, and both of them ended up giving me loads of compliments on how clever I was to spin with a spindle. I think I may have invented the perfect way to gain maximum glory for a minimum effort: apparently one only has to try and do something in front of elderly relatives ;) Dad and granddad ended up talking about how I would need a spinning wheel... I think I may have to hope that that'll materialise into something tangible sometime. The yarn I spun today is still fairly lumpy, so looks like my new winter hat will have more than one row of decorative yarn in it :p