So far I've only finished one of the 10 shawls I hope to make this year. I cast off another shawl today, but as it was a test knit, I'd rather wait until the pattern is published before I display the finished product. The fact that I've yet to block said shawl isn't an issue :p Suffice to say, I love how the Dream in Color Smooshy knit up.
But as promised, here's the Mara I finished on the last day of January: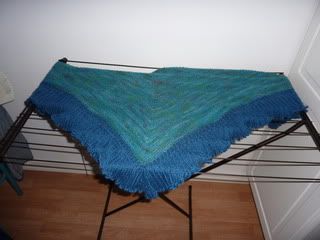 I was also given a copy of the Wollmeise 2010 calendar, which has brightened up a few gloomy days ;)
And to finish off, a few pics to remind me of how pretty the weather was only a few days ago, before the temperatures rose to above freezing.