Sain vihdoin hankittua kauan etsimäni mekon ystäväni heinäkuisiin häihin!
I finally managed to find a dress to wear to a friend's wedding in July!
Tämmöinen roikkuu kaapissa ja odottaa käyttöön pääsyä :D
This pretty little thing is waiting patiently in my closet :D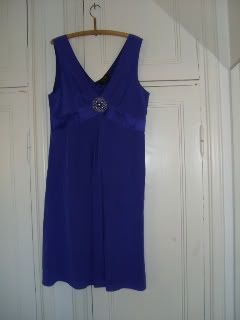 Lähetin juuri eilen Rakkaalleeni viestin jossa mainitsin toivotun huivilangan tarkempia speksejä. Saatan silti joutua konsultoimaan Edinburgh:issa olevan kaupan myyjää myös puhelimitse tulevana viikonloppuna, mutta se ei nyt ole ongelma, eikä mikään ;) On se kivaa kun pääsee ostamaan toisten rahoilla itselleen lankoja :p
I just sent Beloved a text yesterday, regarding the specifications of yarn I'd like him to buy for a shawl. I'm still prepared to give advice on the phone over the weekend, but that doesn't really count as a hardship, does it? ;) Also, I love using other people's money to buy myself pretty pretty yarn :p
Olen myös tykästynyt pellavaan kuituna. En varmaan koskaan uskalla itse kehrätä sitä, mutta valmiina lankana se on ihastuttavaa, varsinkin näin kesän kynnyksellä! Ensi viikonloppuna juostaan Naisten 10 Helsingissä, ja kävin tänään kävelemässä viime kevään reitin hyvän ystäväni kanssa vähän niinkuin harjoituksen merkeissä.
I've started to really like linen as a fiber. I doubt I'll ever spin the flax myself, but as a finished yarn, I'm loving working with it, particularly as summer is almost upon us. The annual Women's 10K in on next weekend in Helsinki, and a good friend of mine and I walked last year's route in preparation today.
Sain eilen viimeisen pakettini kevään SNY-kierroksella. Lisää siitä huomenna, kun saan otettua kuvia (tänään on ollut kovin pilvinen päivä näillä nurkilla).
I received my last parcel in this spring's Finnish Secret Knitting Pal swap. More about that tomorrow, once I manage to take more pics (it's been really cloudy for most of the day in my neck of the woods).
Kuluva viikko on ollut jokseenkin tapahtumarikas myös päivittäisen elämän saralla... Kaikki näyttää kuitenkin kääntyneen parhain päin, joten eteenpäin, sanoi mummo lumessa ;) Toivottavasti hankkimani uudet kukat myös pysyvät hengissä normaalia kauemmin :)
This week has proven to be quite eventful, even in my everyday life... It looks like things have turned out well in the end, so onwards, and upwards ;) I'm hoping the flowers I bought yesteday will last a little longer than usual, as well ;)